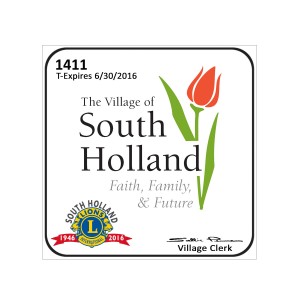 Springtime is renewal season in the Village of South Holland.
2015-2016 Vehicle Stickers are available for purchase beginning May 1 of each year, and must be displayed in the lower right hand corner of your windshield before July 1.
Stickers purchased July 1 or later will incur a 50% penalty; stickers purchased August 1 or later will incur a late payment penalty of $100.
Pet owners are required to purchase a village dog tag. Tags are $10 each and available for purchase at the village hall, 16226 Wausau Avenue.
A garage sale permit is required for residents to host one sale per year. To learn more about spring renewals and required fees, call 708-210-2900.