The Village of South Holland is celebrating the 45th Anniversary of Earth Day by joining with thousands of communities around the world that participate in environment friendly initiatives, such as recycling. Together, we will keep South Holland clean, bright and beautiful.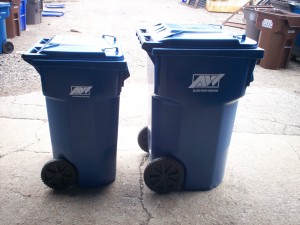 Here's what residents need to know about the new curbside recycling program:
Two new toters will be provided – one for general trash; one for recyclable (olive green lid).
New toters are of no additional cost to the resident.
Residents have the option to keep their current garbage toter for yard waste service, if desired. Also, there will no longer be an annual fee for the toter.
Your regular trash and yard waste pick-up schedule will not change (weekly). Recyclables will be picked up on a two week cycle (every other week).
Your Recycling Go To Guide to acceptable recyclable materials is now available.