RECREATIONAL SUMMER PROGRAM REGISTRATION
The Department of Recreational Services offers a wide range of activities and programs for children, teens, adults and seniors. Beginning May 11th, find your perfect program online, or ask for a program catalog at the Community Center, located at 501 East 170th Street.
Registration for summer activities is coming soon, so save these dates: Thursday, May 28, 9:00 a.m. to 7:00 p.m. for South Holland residents only, Friday, May 29, 9:00 a.m. to 7:00 p.m. and Saturday, May 30, 9:00 a.m. to 2:30 p.m. are open registration dates. Online registration starts May 29th.
DAY CAMP REGISTRATION
Back by popular demand are youth day camp programs, hosted by the South Holland Department of Recreational Services. If you haven't already, register your kids today at the South Holland Community, as programs fill up fast. A deposit of $150 is required per child. Full payment is due by the first day of camp. The South Holland Community Center is located at 501 East 170th Street.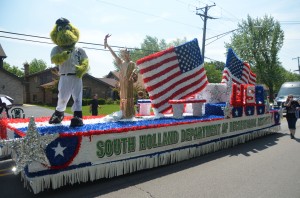 MEMORIAL DAY PARADE
The South Holland Memorial Day Parade is coming soon. The deadline to register your organization for the parade is May 1. Registrations are accepted at the South Holland Community Center, 501 East 170th Street.
The Memorial Day Parade will start at 11 a.m. on Monday, May 25, along South Park Avenue from 170th Street to 160th Place. The Remembrance Ceremony will start at 1 p.m. at Veterans Memorial Park, 160th Place and South Park Avenue. Little League baseball and softball all-star games will follow at 2 p.m., with refreshments available for purchase from Home Plate Grill. For more information, call 708-331-2940.
On behalf of the South Holland Police Department, be safe and prepared this winter season.