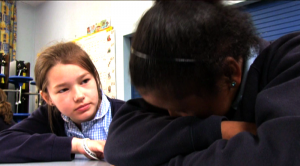 The Village of South Holland Youth Commission will conduct two drawings to award free tickets to the Chicago White Sox vs the Chicago Cubs Crosstown Classic baseball game, as sponsored by Illinois State Representative Thaddeus Jones.
Students who attend the May 2 Cyberbully Awareness Focus Group will have a chance to win the tickets. The focus group will meet from 11 a.m. to no later than 3 p.m. at the South Holland Community Center, 501 East 170th Street. Doors open at 10:30 a.m. for check-in, with the movie, "Cyberbully," to start promptly at 11:00 a.m., followed by small group discussions facilitated by trained counselors. Pizza will be served.
Participating students will receive a free Starbucks gift card. Crosstown Classic games are July 12 at Wrigley Field and August 14 at US Cellular Field.
We are currently recruiting a maximum of 35 students and their parent(s) to participate. Students must be in grades 6th-11th to participate in this event. Registration is still OPEN!  To register, complete the form below. To receive additional information, contact Mary Ann Thornton via email at mthornton@southholland.org or call 708-210-2918.